Almost exactly one week after Orbx showed a preview video of TrueEarth US Washington for X-Plane 11, marketing manager Aimee Sanjari has now officially launched the project. In addition to the functionality, the price is now fixed. The 210 gigabyte Orbx TrueEarth US Washington scenery is expected to cost around 70 Australian dollars and will be released in mid-June. An optional HD package with higher resolution textures is also planned. Further information can be found in the full article.
The official announcement also brings additional details. According to the announcement, TrueEarth US Washington will be downloaded and installed exclusively via Orbx Central 4. This Client will not only work with Windows, macOS and Linux, but will also allow faster downloads and user-defined installation locations. More information about Orbx Central 4 will be available soon.
Features of TrueEarth US Washington
According to Aimee Sanjari, TrueEarth US Washington encompasses much of the US state of Washington and parts of Canada to the north and the bordering US state of Oregon to the south. The scenery will then contain a total of 237,956 square kilometers of manually corrected and color-coordinated aerial photos. In addition, there is a new Autogen technology with Physically-Based-Rendering (PBR). This makes it possible to place thousands of houses, considering the correct height of the buildings. In addition, the Autogen should optically correspond to the houses in the Pacific Northwest and have only a minimal effect on the frame rate.
In addition, Orbx promises a total of 1,174 custom 3D landmarks. These include bridges, skyscrapers, stadiums, cranes, wind farms, churches, monuments and much more. The urban areas of Seattle, Bellevue, Victoria and Tacoma are fully included, according to Aimee Sanjari. In Everett, Olympia, Spokane, Kennewick and Yakima there are at least important buildings. According to Orbx, the feature list is completed with over 500 million correctly placed trees, a 10-metre high mesh and water masks along the entire coastline and at most rivers and lakes. In addition, there is accurate road and rail traffic. The scenery will come without seasons, but includes a full night lighting.
Orbx offers HD textures as an option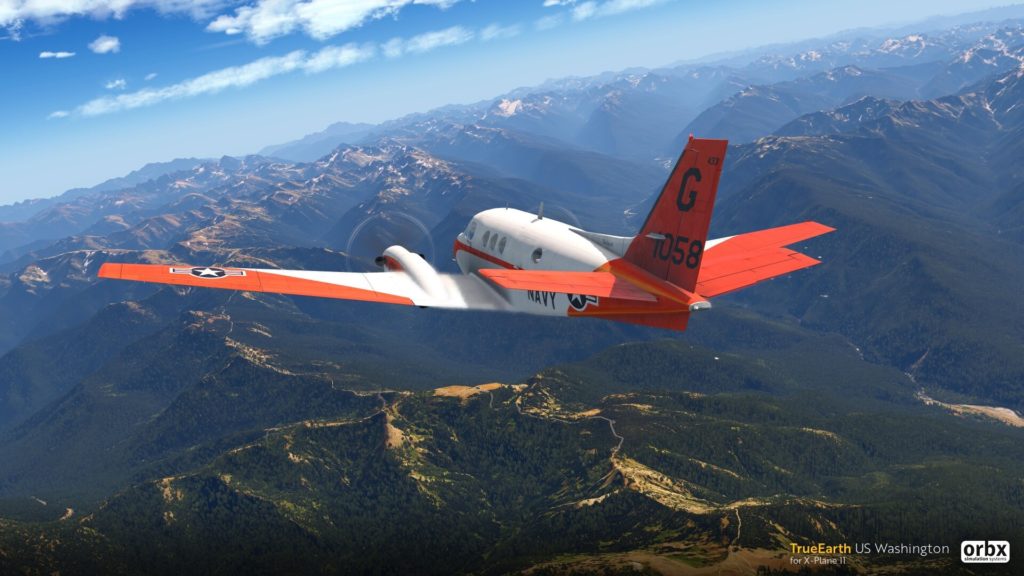 If you have a strong computer, Orbx will offer an optional HD-Pack for you. This should cost about 15 Australian dollars extra. Included is the following:
1024 and 2048 texture options for all 3D models and autogenous,
2048 textures for the Terraflora trees,
WA56 Israel's Farm Private Strip as bonus airfield,
improved and additional buildings for the airports in Seattle,
Configurator to select between different texture resolutions.
To use the HD Pack, Orbx recommends an Intel Core i5/i7/i9 processor and a CPU clock of at least 4.6 GHz. The graphics card should have at least eleven gigabytes of video memory. The NVidia GTX 1080 Ti or newer models would be suitable.
Compatibility to Seattle by Drzewiecki Design
Due to the detailed urban areas, TrueEarth US Washington is not compatible with Seattle City by Drzewiecki Design. At the same time, however, Orbx wants to establish compatibility with Seattle Airports for X-Plane 11. More information will follow shortly before the release.
Discuss this topic
Become a Member at Flusiboard and discuss this topic here in our Community. You can also use the comments section at the end of this post to share your thoughts.
---
---