April 1st is past and there were so many false reports to read that hardly anyone knew who to believe now. Several portals reported about an A350 XWB Advanced Series. An A350 for Prepar3D especially on April 1st? We're now bringing light into the darkness and have to disappoint you. The whole action was unfortunately only an April fool's joke. And this is how we did it:
Who is responsible for it?
We, the team of flusinews.de and flightsim.news. Every year we lead you astray on April 1st, this year by far the most elaborate action was started. Not only our own readers believed the joke, numerous news portals spread our news without knowing about our plans. Wide Body Sim Development doesn't exist, at least not until we introduce the A350neo next year. 😉
How did you do it?
Every year we get countless press releases. In order to provide some variety in the land of jokes, we founded the fictional development studio Wide Body Sim Development (WBSD) and set up a professional website as well as a press release as credible as possible. Turbosquid provided us with exclusive renders of a 3D model.
The A350 XWB Advanced Series was finished. In the evening hours of March 31st we sent this message to numerous portals and of course wrote our own report about the A350. Then we had to wait and laugh, the news spread like wildfire.
Who fooled?
In the course of the day, the number of hits on the website exploded. Not only numerous Facebook groups suddenly talked about the new A350, also several portals fell for our nonsense.
In the end we can celebrate our action as a complete success, because hardly anyone had not heard about the new A350 on the evening of April 1st.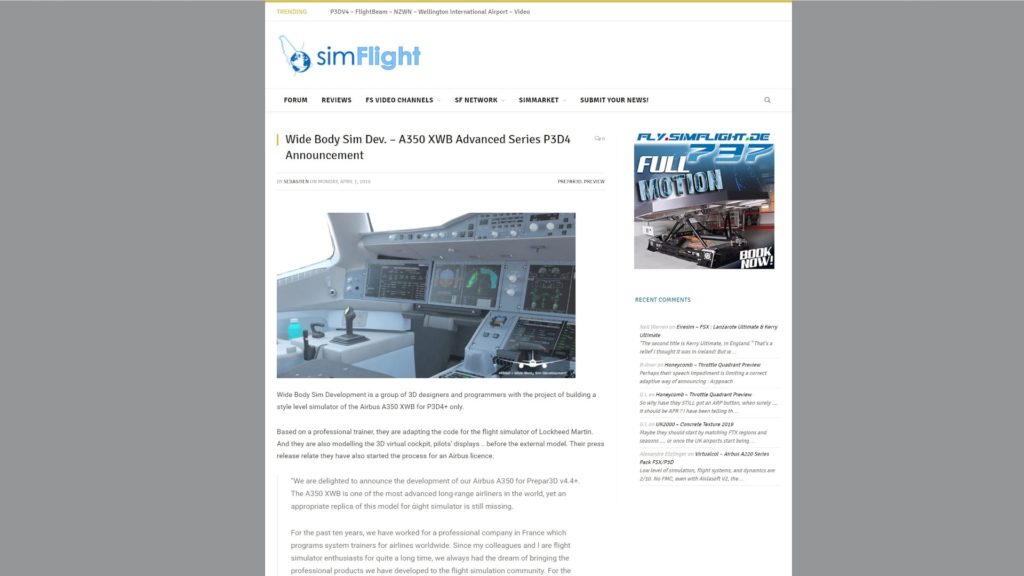 What about the FSX:Steam Edition?
To distract from this action, we thought up some more nonsense and reported on the morning of April 1st that Dovetail Games is "back in business" and wants to score with a massive update for the FSX:Steam Edition. Of course this was bullshit, but still some readers believed us that Australia is only included in the FSX:SE with the promised update.
---
Of course we apologize to everyone who took our announcement at face value and looked forward to the new add-on the whole day. But we also hope that you had some fun with our April Fool's joke and wish you a nice week!
Discuss this topic
Become a Member at Flusiboard and discuss this topic here in our Community. You can also use the comments section at the end of this post to share your thoughts.
---
---