Last weekend, developer Stefan Schrön, who is known as monoblau on our Flusiboard, sent us a bunch of screenshots of his latest project for X-Plane 11. Of course we don't want to withhold this from you and we will now introduce monoblau El Tietar and Algodor in this article. The scenery is a collaboration with his developer friend Walter Schönbächler aka WalSch.
monoblau El Tietar: How it came to that
Talking to flusinews.de about how this project came about, the Mannheim developer says » ..secondarily I live in Anover de Tajo / Castile – where my wife comes from. That would also be the transition to El Tietar and Algodor – both in the immediate vicinity of Anover de Tajo and Toledo.«
Stefan also points out that this is a really beautiful area that hardly any tourist knows. This is mainly because it is in the middle of Spain and not by the sea.
The airports are the beginning of a series that I had in mind for a long time and that should cover the area around Toledo.

Stefan Schrön aka monoblau
The scenery will be optimized for the SpainUHD Orthos, because the area in the standard scenery of X-Plane 11 doesn't look like it does in reality.
Stefan hasn't talked about a planned release date yet, so the release will certainly drag on a bit. Nevertheless, the preview screenshots shown here look really promising. Accordingly, a real highlight will definitely await us. Of course we will stay tuned for you and report on the further course of the project.
Oh, by the way…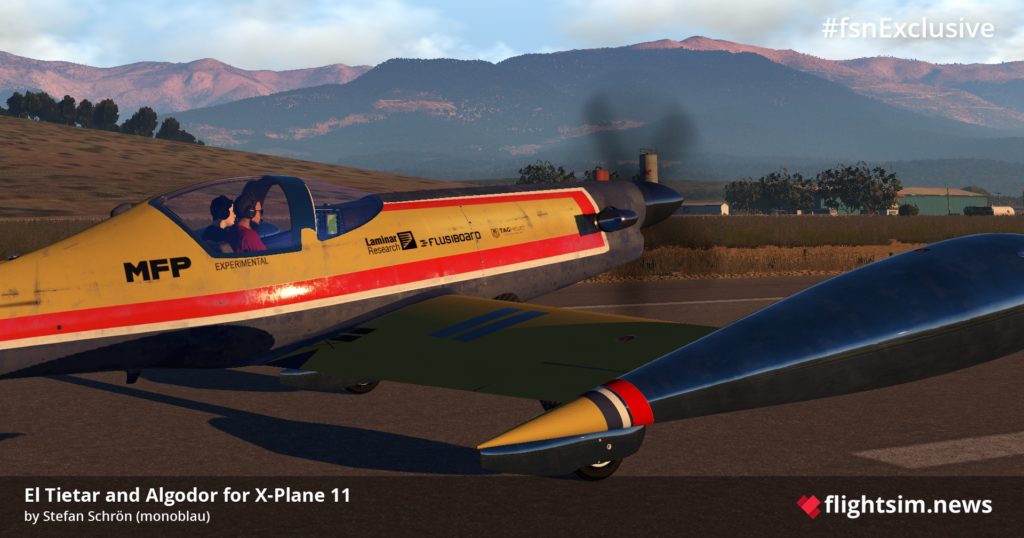 On a few of the screenshots sent to us we could discover that we are immortalized with our community on Stefan's Pocket Rocket. Maybe it will find its way into the Flusiboard Filebase? 🙂
Discuss this topic
Become a Member at Flusiboard and discuss this topic here in our Community. You can also use the comments section at the end of this post to share your thoughts.
---
---