A few days ago, Just Flight have announced two further developments. Instead of an airliner – announced a few days ago with the 747 Classic – this time there are two GA aircraft. These projects are a Piper PA-28 Archer III (find the product page here) and a Beechcraft Duchess 76 (more info here). Both planes will firstly come for FSX, the FSX:Steam Edition and Prepar3D, Which is certainly not a no for a version for X-Plane 11. The designers promis that both planes will built by using real-world aircraft plans. Comprehensive photography of the real aircraft will also help to achieve a very detailed model.
Piper PA-28 Archer III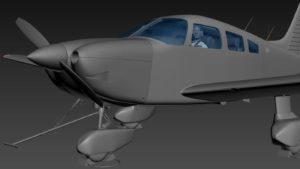 The Piper PA-28 Archer III will come with a detailed model of the exterior, interior and the cockpit. It will feature a bunch of animations and HD-Textures. The product description also promises an in-depth systems simulation. Including the fuel system, electircal system functional carburettor and primer controls and much more. It will also come with a bunch of liveries from the UK, USA, Canada, France, Australia and Germany.
Beechcraft Duchess 76
The developers have supplied a very similar features list for the Beechcraft Duchess 76. So the twin piston engine airctaft will also come as a very detailed model with HD-Textures, in-depth simulated systems, a bunch of liveries from aircraft of different countries around the globe and much more. Both planes will also get the possibility to intigrate the Flight 1 GTN and GNS third-party navigation systems.
Discuss this topic
Become a Member at Flusiboard and discuss this topic here in our Community. You can also use the comments section at the end of this post to share your thoughts.
---
---