After the release of the Carenado DA62 for Prepar3D, the FSX and the FSX:Steam Edition yesterday, today was another implementation of the GA plane for Prepar3D v4. This comes from the developer room Vertx. Although it is new on the market under this name, it is the well-known designer Sean Moloney, who previously worked for RealAir for 16 years, behind it. The Vertx Diamond DA62 is to be released exclusively for Prepar3D v4 and will include a host of features including razor-sharp 4k textures, a realistic flying model, detailed systems and much more. The release is expected in the next weeks, until then there will be more preview screenshots.
---
---
More details about the Vertx Diamond DA62
According to the press release, the Diamond DA62 from Vertx will feature crystal clear 4K textures and dimmable backlighting for the instrument panel. The Garmin G1000 was modeled as a 3D instrument to ensure smooth animations and good readability. Furthermore, the flight planner of the G1000 allows the creation, saving and loading of flight plans – including compatibility with the Prepar3D flight planner.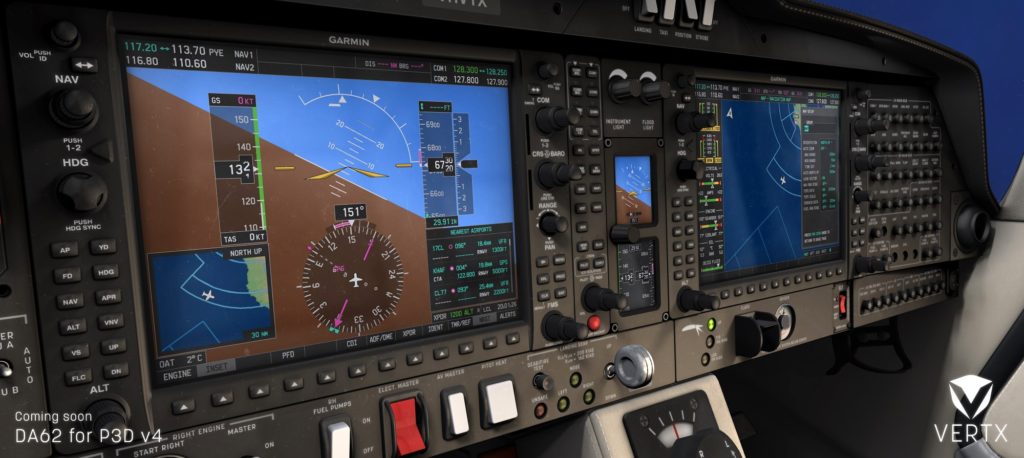 All different modes of the autopilot should also be simulated. This includes vertical navigation (VNAV) as well as LPV approach procedures with Glideslope. An extended flight model also includes a special routine for stall and spin as well as specially programmed behaviour during single-engine operation. In addition, there is a completely new sound engine and high frame rates.
The Diamond DA62 by Vertx will be released in the coming weeks, until then we can expect more previews according to Sean Moloney.
Discuss this topic
Become a Member at Flusiboard and discuss this topic here in our Community. You can also use the comments section at the end of this post to share your thoughts.
---
---